GALENTINE'S ♥
Since I was a kid, I've always celebrated Valentine's Day. My parents would buy me chocolates and candies and gifts (I know, I am #blessed) and I always loved the days as a child, getting Valentine's for friends and wondering if I had a secret admirer that I never knew about. As I grew up, my friends and I did the same together. Whether we had "Valentine" or not, we always found ways to make one another feel special. Whether that be getting together to celebrate or showing up to each other's houses with gifts and candy, I can't remember a Valentine's when I didn't feel valued because I've always been reminded by my loved ones, that I was worthy of celebrating. Because of this, I wanted to spend a night making ladies feel the same!
Over the past few years, I've thrown or attended a Galentine's party. A couple years ago, my friend Mariah and I teamed up to throw a grand shindig for some of our favorite single gals we wanted to celebrate (see below). We honestly had such a blast getting glam, eating the finest delicacies (read: chocolate and chicken & waffles), taking photos, and dancing the night away on a Dallas rooftop. At the end of the night, we wrote love letters on heart shaped balloons to ourselves, the universe, God, our future husband, whoever we wanted, and released them into the sky. And as cheesy or teenage novel-esque as it may seem, it was beautiful. And it was perfect. Reflecting on what an amazing time I had that year, I wanted to find a way to do it again but with even more purpose.
This year, I wanted to find a way to bring together even more amazing ladies to connect in Dallas and give back. I wanted each lady to know that she was loved and also be able to play a part in something bigger. I wanted to find a local non-profit to give back to that supported a younger generation of ladies and came across PEARL Girls of Promise, Inc. that is dedicated to empowering young women. I thought it would be the perfect way for us to play our part in giving back to uplifting young women for the evening. Women poured in and we danced the night away, took photos, ate delicious veagan bánh mì bites (via the incredible Plant Crush) and chicken and waffles, took photos, and made beautiful new friends. Together, we were able to raise over $350 in proceeds to be given back to the organization, and have an amazing time, looking great while doing so!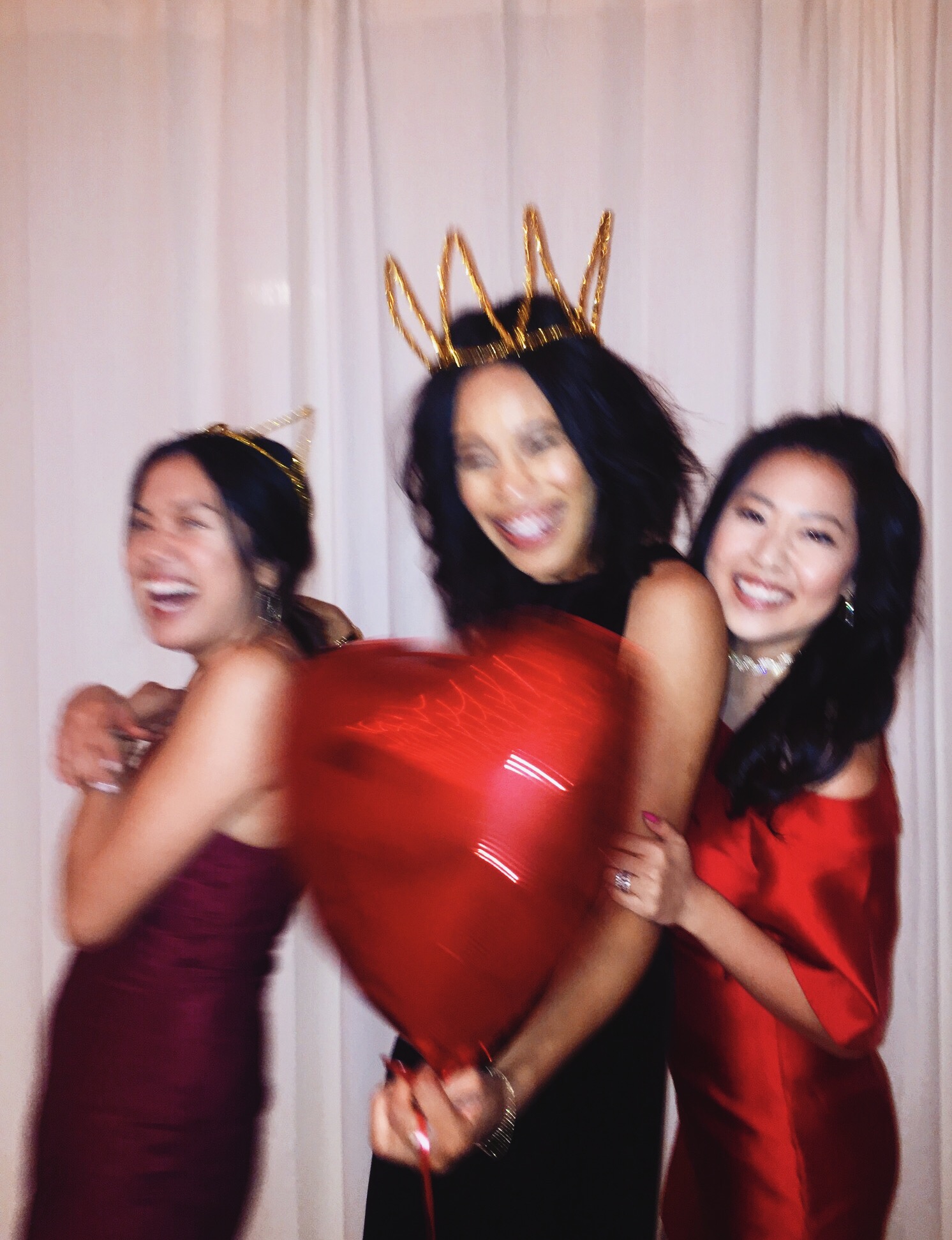 Most of the photos featured are just grainy, iPhone quality, as we didn't have a photographer for the night, but rather individual moments captured that I love so much, as well as some from the photo booth set up we had in the corner. The night was amazing and I'm so thankful for everyone who helped make it a reality. Ladies left with an hope filled, prayed over love letter and a hand crafted print from my shop or a beautiful item from one of our amazing sponsors. Which is a perfect time to say - THANK YOU so much to our sponsors, Hello Flawless Makeup Artistry, MacSquared Macarons, AlliK Design Studio, We Are Unveiled, Dallasites101, and Plant Crush. As well as Place on Parry for partnering with us on the beautiful venue!
I'm so thankful for the opportunity to spend Galentine's with these amazing ladies and that the event went over so well ♥
And if you've gotten this far, here's a fun little added bonus of a video my amazing friend Tiana and I made a couple Galentine's ago with essence cosmetics - I told you, we don't take the holiday lightly ;)